TMJ / TMD Therapy
Stiff Jaw? Chronic Headaches?
Does your jaw painfully pop and click all the time? Does it ever get stuck? Do you get migraines frequently and can't figure out why? All of these symptoms (and more) can actually stem from a strained or over-active temporomandibular joint (TMJ), which is the set of hinges on your jaw that connects it to your head. Problems with this joint are referred to as temporomandibular joint disorders (TMD), and they can cause a wide variety of dental and overall health problems. Dr. Gary Klein and our team are trained to handle these kinds of issues, so we'll always keep an eye on the condition of your jaw whenever you come to see us.
---
Diagnosis & Treatment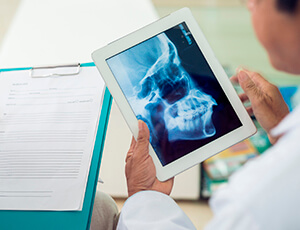 As part of your regular checkup, we will make sure everything is alright with your TMJ. We'll look at your range of motion, ask about any discomfort, and also test your occlusion (how your teeth come together). Any of these tests can reveal the signs of strain or misalignment, and depending on what we find, we can recommend the right kind of treatment. For some, the answer is as simple as reducing daily stress or performing a few quick stretches, but for others, a specialized mouthpiece called an occlusal splint may be needed.
---
Occlusal Splints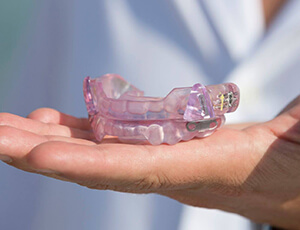 This is a small, custom-made mouthguard that you would only wear to bed at night. It slightly repositions your jaw so that the muscles can relax, heal, and naturally find a more comfortable position. Since TMJ problems commonly lead to nocturnal teeth grinding as well, it will also provide a protective barrier between them. Since the splint will be made just for you, it will be completely comfortable in addition to being extremely effective at relieving your pain.