Harrisburg Restorative Dentistry
Do you have chipped, cracked, or decayed teeth that constantly make life harder for you? Do they prevent you from smiling confidently or enjoying your favorite foods? If this sounds like you, we can help rebuild your smile with our variety of restorative treatments. In the end, we'll give you a set of teeth that will look and feel better than ever before, we promise! You'll no longer have to think about what your smile is lacking because we'll make sure it shines brighter than ever before.
---
Dental Crown & Bridge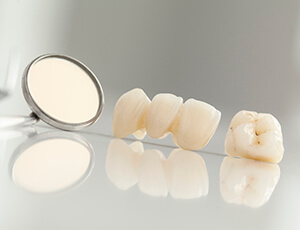 A dental crown is one of our most utilized treatments to repair broken and decayed teeth, and the reason why is simple: it works!
A dental crown is simply a tooth-shaped restoration that we use to cover a damaged tooth. It will be designed to perfectly match the rest of your teeth, and the material used to make it will be just as strong and durable as your natural enamel.
It only takes two easy visits to get one. At the first, we'll simply shape your affected tooth so that the crown will fit over it, take an impression, and then send it to a lab to fabricate your crown. We'll place a temporary one while it's being made, and at your next visit, we'll securely place it in your mouth using a small amount of dental cement.
If you are missing one or two teeth in a row, we can use a dental bridge to replace them. We'll simply place crowns on the teeth surrounding the gap (using the process we just described), and then we'll connect these crowns to prosthetic teeth that will literally "bridge" the space between them.
In either case, these restorations are fantastic for restoring both the appearance and function of your smile. With the proper maintenance (brushing, flossing, and regular checkups), they can easily last for 10 years or more.
---
Tooth-Colored Fillings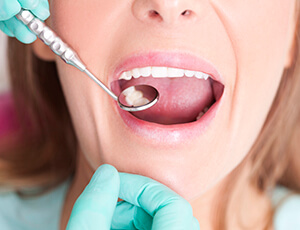 When it comes to repairing a mild cavity, nothing does it better than a simple filling, and you're probably well aware of that because, likely, you already have at least one in your mouth! However, old metal fillings do have some drawbacks. Firstly, they always leave an obvious dark, gray spot on your teeth. Also, they can make your teeth sensitive to heat and cold, plus they require quite a bit of your tooth to be removed while they're placed, which weakens it overall.
Thankfully, we can now offer tooth-colored fillings, which are actually both a better cosmetic and restorative option. They are made of a composite resin material, and (as you can probably guess) they can be specially shaded to perfectly blend into your smile. Since they are metal-free, they won't make your teeth sensitive, and they even require less enamel to be removed when placed. This means you get a better looking tooth that will last much longer with just one treatment!
---
Dentures & Partial Dentures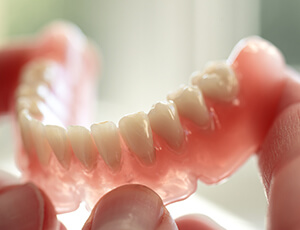 If you're missing numerous teeth throughout your mouth or even an entire row, then one of the quickest and most cost-effective ways to replace them is with a set of dentures. Unlike those of the past, modern day dentures are much smaller, sleeker, and natural-looking than anything your grandparents might have had.
A partial denture can be used to replace teeth located throughout your mouth, while full dentures can restore an entire arch. In any case, our team will make sure you get a set of dentures that has the perfect look and fit for you.
---
Klein Family Dentistry has literally helped tens of thousands of smiles just like yours, so no matter what your teeth need, we can provide it. You don't have to deal with the hassle of broken and decayed teeth anymore—contact our office today for an appointment.