Dental Implants in Harrisburg
The Best Way to Replace Missing Teeth
Dental Implants are simply the best solution for missing teeth available today. They can be used to replace missing front and back teeth, stabilize a loose denture, and even build an entirely new smile.
At Klein Family Dentistry, we can perform both the placement and restoration of dental implants in our office, and our patients appreciate the convenience of having everything done in one location. Our implant team is dedicated to providing you with the best looking and best feeling teeth possible. Whether it is a single missing tooth, multiple teeth, or an entire mouthful, Dr. Gary Klein will make sure you feel comfortable throughout the entire process of getting your smile back.
---
Dental Implant Technology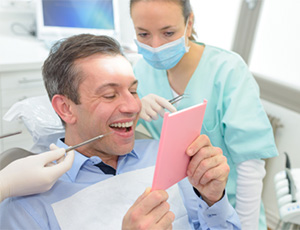 In order to ensure a completely integrated, effective dental implant supported tooth replacement plan, we utilize all the latest dental technologies, including 3D CT cone beam scans to create a flawless view of the entire jaw, surgical sites, and more. We can use these comprehensive images to clearly see the shape, size, and position of every part of your tooth, leading to a clear and accurate surgical guide to ensure successful dental implant placement, so your restoration will last.
Learn more about Dental Implant Technology
---
How Dental Implants Work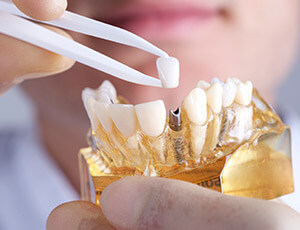 A dental implant is actually made of three distinct parts:
A small titanium post
Prosthetic teeth
An abutment (which connects the post to the teeth)
The titanium post is what makes implants so special, as they actually replace the root structure of your tooth. This will not only give your new smile extra stability, but it will also strengthen your jaw so that it can better support your other teeth. No other treatment can do this!
To get dental implants, the post(s) must first be placed into your jaw, and this requires a minor surgical procedure we can perform right in our office. Dr. Klein will make a small incision into your gums, place the implant(s), and then you'll be given 4-6 months to heal. During this time, the bone and the post will actually grow together, providing an even more secure hold. Afterward, you'll return to Klein Family Dentistry to get your replacement teeth.
---
Benefits of Dental Implants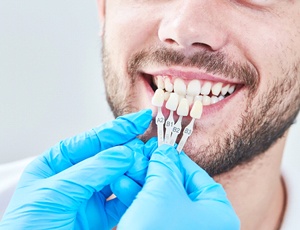 Thanks to advances in modern dentistry, today there are a range of restorative treatments and devices that can help replace missing teeth and boost your confidence. So, what sets dental implants apart from more traditional tooth replacement options? Dr. Gary Klein highlights the various benefits that make dental implants a popular and effective treatment for patients with missing teeth.
Learn More About Benefits of Dental Implants
---
Dental Implant Crowns & Bridges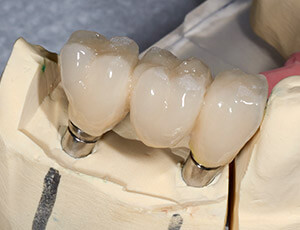 For a single missing tooth, we'll replace it using an implant-retained crown. This crown will be made entirely of dental porcelain, which is an extremely durable material that can be sculpted to perfectly mimic a tooth's shape, size, color, and even feel. Since it will be held in place under the gums just like your other teeth, the only person who will know that it isn't real will be you!
If you have multiple missing teeth in a row, we can also use dental implants to anchor a bridge. We'll place implant-retained crowns on either side of the gap in your smile, and these will be attached to prosthetic teeth that seamlessly fill in the space. Compared to traditional bridges, implant-retained bridges last longer, look better, and don't require any of your healthy teeth to be filed down to hold supporting crowns.
To take care of your implants, you just need to brush and floss your teeth like normal in addition to getting regular checkups. With this simple plan, your implants can easily last for 30 years or more.
---
Dental Implants and Dentures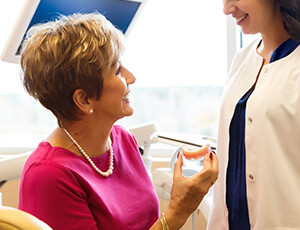 Are you missing quite a few teeth, or do you have a set of dentures that slip, slide, and irritate your gums? If so, you could definitely benefit from implant-retained dentures. These prosthetics look just like their traditional counterparts, but they have a multitude of advantages:
Since they are held in place using dental implants, they will never slip, slide, pop, or click.
The underlying support of the implants will keep your jaw healthy and strong, which in addition to making you look younger, will also help your dentures maintain their fit for much longer.
They'll allow for a much stronger bite force. This is important because you will be able to eat a wider variety of foods, most importantly healthy ones. Denture wearers typically have to avoid things like cooked meats and fibrous vegetables, which are essential to any diet, and this often leads to malnutrition and even premature death. With implant-retained dentures, you'll not only be able to enjoy your favorite foods, but a longer, healthier life as well.
---
All-On-4 Implant Dentures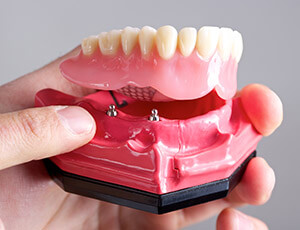 Using this method, we can restore an entire row of missing teeth in just one day. How, you might ask?
Using just four strategically placed implants, we can give you a full denture. This method is great for those who are missing all of their teeth, top or bottom, as well as those who have jawbones that are not strong enough to support traditional implant-retained dentures (which normally require 6-8 posts).
With this treatment, we can often place and restore the implants in just one day. Two posts will be located at the front of the jaw (where the bone is naturally thicker), and two will be placed on either side at the back of the jaw at an angle to help them give maximum support. This will provide enough strength to hold a full denture in place. Patients are amazed at what we can do in a single day, and often, their only regret is that they didn't do it sooner!
---
3D Printed & Guided Dental Implants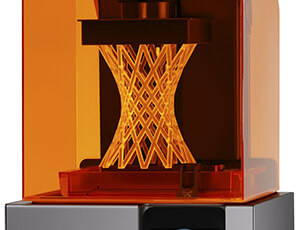 Something that makes our practice unique is that we actually have a 3D printer that we use to make surgical guides for the implant placement procedure. Using scans and x-rays, we'll be able to create a fully 3D model of your mouth and jaw to help us plan your implant placement. This way, we can find the perfect location for the implant post to provide maximum support and avoid any nerves that might cause you pain. This means that when you come in to get your implants, we'll have practically done the procedure before, meaning you're guaranteed to have a fantastic result.
---
Understanding the Cost of Dental Implants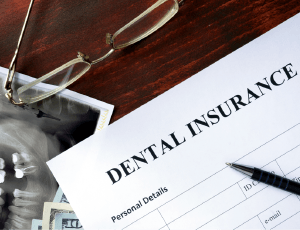 Before beginning your dental implant tooth replacement plan, our team will help you to understand and budget for the costs of treatment. There are several steps to these restoration plans, and each will be billed for individually to allow you to spread the cost of care out over several weeks or months. The first phase of treatment is preparation. We may need to remove one or more damaged teeth, offer restorative services to repair teeth that don't need to be removed or address health issues like gum disease, and in some cases, bone or soft tissue grafts are needed. Then, the implant posts are surgically placed into the jawbone. Once implants have fused with supportive structures, you'll return so we can attach the abutment posts and design your final restoration. Finally, your crown, bridge, or denture will be attached to the implant posts. Throughout this process, we will help you to utilize dental insurance benefits where available, and we can partner with you to find low and no interest financing options to split treatment costs into smaller monthly payments.
---
Are missing teeth making it harder for you to talk, eat, or smile? They don't have to anymore thanks to dental implants. They are a permanent solution that can have innumerable benefits for your health and self-confidence, and you can get them right here in Harrisburg at Klein Family Dentistry. To start getting your smile back, simply contact our office today for an appointment.