Dental Implants – Harrisburg, PA
The Best Way to Replace Missing Teeth
When it comes to rebuilding your smile after tooth loss, dental implants are simply the best solution available today. They can be used to replace missing front and back teeth, stabilize a loose denture, and even build an entirely new smile.
At Klein Family Dentistry, we can perform both the placement and restoration of dental implants in our office, and our patients appreciate the convenience of having everything done in one location. Our dental implant team is dedicated to providing you with the best-looking and best-feeling teeth possible. Whether it is a single missing tooth, multiple teeth, or an entire mouthful, Dr. Gary Klein will make sure you feel comfortable throughout the entire process of getting your smile back. Simply call us today to learn more about how dental implants in Harrisburg can give you a full and complete smile again!
Why Choose Klein Family Dentistry for Dental Implants?
Dental Implants Placed & Restored In-House
3D-Printed Surgical Guides Used for Precise Dental Implant Placement
Several Flexible Financing Options Available
What Are Dental Implants?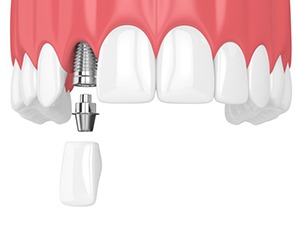 A dental implant is a small, titanium post. When inserted below the gum line, the dental implant fuses with the jaw and gums, mimicking the lost tooth roots. Directly following the surgical implantation process, a protective cap is placed over the top of the implant post. Once the post has fused with the jawbone, patients return so we can attach an abutment piece. Once the abutments are attached, we'll capture impression of the bite that will be used by a lab to craft the dental restoration (replacement tooth or teeth) that will attach to the abutments.
Because dental implants are made of a biocompatible material that essentially becomes part of your jawbone, they provide a more reliable and lasting foundation for your new pearly whites. Most dentists, including Dr. Klein, agree that dental implants are by far the best way to replace missing teeth.
---
The 4-Step Dental Implant Process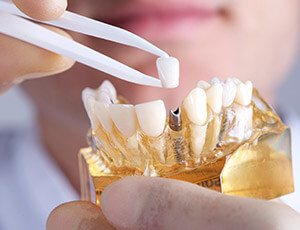 While getting dental implants requires multiple appointments that span several months, this high-quality tooth replacement solution is well worth the wait. After all, they can last 30+ years or even a lifetime with the right care! Plus, Dr. Klein can handle every step of the dental implant process right here in our Harrisburg office. Everyone's dental implant journey will vary slightly, but here are the four basic steps you'll go through:
Initial Dental Implant Consultation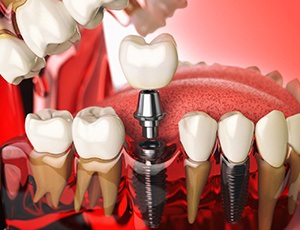 In most cases, you're a candidate for dental implants if you have good oral and general health; however, you'll still need a thorough consultation to ensure they are right for you. We'll perform a comprehensive exam to assess your dental health. We will also discuss your medical and lifestyle history to ensure there are minimal risk factors for complications. A CT scan will be taken to allow us to examine your oral structures for any potential issues that might be lingering below the surface, such as infection or bone loss. Based on the results of the examination, you may need additional procedures before your placement surgery, like bone grafting.
Dental Implant Surgery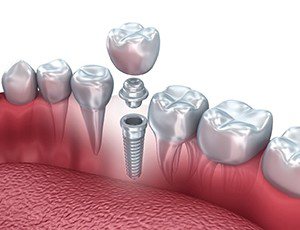 After you've healed from any previous treatments, you're scheduled for your placement surgery. Sedation or anesthesia is used to ensure your comfort as your gum tissue is opened to gain access to your jaw. Small holes are drilled into pre-determined locations in your bone to allow titanium posts to be inserted. Your gum tissue is stitched closed, and you'll spend the next several months healing.
Dental Implant Osseointegration/Abutment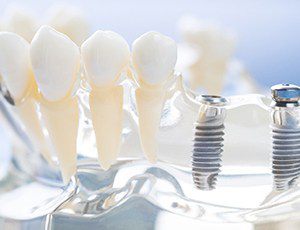 The implant posts will act as new tooth roots, stimulating your jaw to encourage bone growth. Over the next three to six months, your bone will integrate with the posts, providing a stable foundation for your restorations. With the right care, your dental implants can stay in place forever.
Once your jaw has healed, you'll need a second minor surgery to attach abutments to the posts. They are connector pieces between your implant and your restoration. The procedure in relatively minor. Your gum tissue is opened to expose the implant posts. After the abutments are in place, your gum tissue will heal around them over the next couple of weeks.
Delivery of Dental Implant Restorations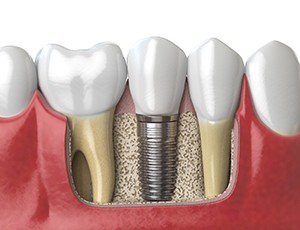 As your gum tissue heals, the dental lab will be hard at work making your replacement teeth. Your restorations are made to meet your exact specifications from all-ceramic material. They will match the color, size, and shape you need to look and feel natural. You can chew, speak, and smile confidently knowing your new teeth are close replicas of your real ones. Your restorations will experience daily wear and tear, so they will need to be replaced about every 10 years.
---
Benefits of Dental Implants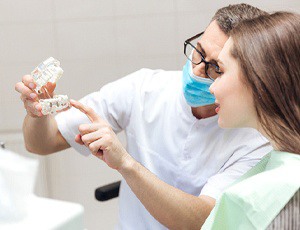 With over 120 million people missing at least one permanent tooth, it's no surprise that countless patients are choosing dental implants in Harrisburg to restore the function and appearance of their smiles. Not only does this modern treatment have countless benefits to offer, but it's unique structure a process compared to traditional tooth replacement treatments truly sets it apart from any other restoration. Learn how this advanced procedure has the ability to change every aspect of your life, from your social interactions to completing everyday tasks.
Day-to-Day Benefits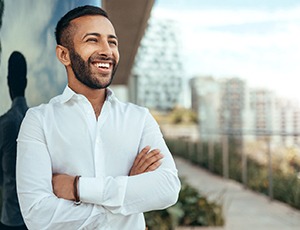 It's no surprise that having a complete smile can boost your confidence and help you feel more comfortable in social settings, like getting together with your coworkers for drinks or going on a blind date. With a smile that you feel proud to show off, you can go about your daily life without the constant looming anxiety of what other's think about your grin.
Have you ever tried to chew a piece of steak with traditional dentures? It's virtually impossible. With a secure foundation of dental implants for your dentures, you can eat all of your favorite foods with ease.
Just like your natural teeth, your dental implants are simple to care for. Just brush twice a day, floss daily, and visit your implant dentist in Harrisburg every six months for a checkup and cleaning!
Health Benefits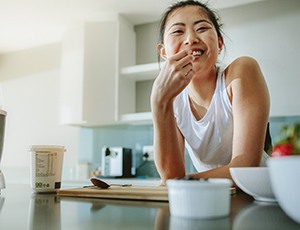 It may come as a surprise that your oral health is so intertwined with your overall wellness, but that's the case! People who don't replace their missing teeth are at a higher risk of developing other health problems, including cardiovascular disease, diabetes, and more.
Having enhanced chewing ability doesn't just satisfy your tastebuds because you'll get to eat all of your favorite foods. It also helps your body absorb nutrition from foods that it needs to remain healthy!
Some patients who have traditional restorations that don't fit their mouths properly, like ill-fitting dentures, suffer from sores, sensitivity, and other uncomfortable effects. With implant dentures, because the restoration is attached to a secure base in your mouth, you don't have to worry about slipping and shifting that can cause uncomfortable oral wounds.
Long-Term Benefits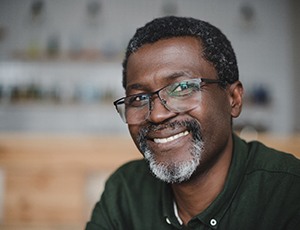 When a tooth goes missing, the root of it, which is a key structure attached to the jawbone, also gets removed. Over the years, this area of the jawbone won't receive the necessary stimulation and blood flow that it needs to continue growing. Even with traditional dentures, it will begin to shrink and change the overall structure of the face. Because dental implants are able to undergo the osseointegration process (fusion with the jawbone), your jawbone won't deteriorate.
Studies have shown that dental implants have the ability to last 35+ years with routine maintenance, while traditional dentures and bridges only last between five and seven. Although they have a higher up-front price tag, dental implants are considerably more cost-effective and can save your wallet down the road.
Dental implants boast an impressive 95% average success rate, even 10 years after their placement. This means that you can trust that your investment won't be in vain.
---
Who Dental Implants Can Help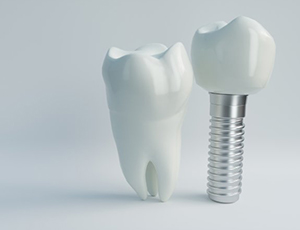 Undoubtedly, dental implants are the most versatile tooth loss treatment. They can be used to replace any number of missing teeth:
Missing One Tooth
For a single missing tooth, we'll replace it using an implant-retained crown. This crown will be made entirely of dental porcelain, which is an extremely durable material that can be sculpted to perfectly mimic a tooth's shape, size, color, and even feel. Since it will be held in place under the gums just like your other teeth, the only person who will know that it isn't real will be you!
Missing Multiple Teeth
If you have multiple missing teeth in a row, we can also use dental implants to anchor a bridge. We'll place implant-retained crowns on either side of the gap in your smile, and these will be attached to prosthetic teeth that seamlessly fill in the space. Compared to traditional bridges, implant-retained bridges last longer, look better, and don't require any of your healthy teeth to be filed down to hold supporting crowns.
Missing All Teeth
Are you missing quite a few teeth, or do you have a set of dentures that slip, slide, and irritate your gums? If so, you could definitely benefit from implant dentures. These prosthetics look just like their traditional counterparts, but they have a multitude of advantages:
Since they are held in place using dental implants, they will never slip, slide, pop, or click.
The underlying support of the implants will keep your jaw healthy and strong, which in addition to making you look younger, will also help your dentures maintain their fit for much longer.
They'll allow for a much stronger bite force. This is important because you will be able to eat a wider variety of foods, most importantly healthy ones. Denture wearers typically have to avoid things like cooked meats and fibrous vegetables, which are essential to any diet, and this often leads to malnutrition and even premature death. With implant dentures, you'll not only be able to enjoy your favorite foods, but a longer, healthier life as well.
Learn More About Implant Dentures
All-on-4
With All-on-4, we can restore an entire row of missing teeth in just one day. How, might you ask?
Using just four strategically placed implants, we can give you a full denture. This method is great for those who are missing all of their teeth, top or bottom, as well as those who have jawbones that are not strong enough to support traditional implant dentures (which normally require six to eight posts).
With this treatment, we can often place and restore the implants in just one day. Two posts will be located at the front of the jaw (where the bone is naturally thicker), and two will be placed on either side at the back of the jaw at an angle to help them give maximum support. This will provide enough strength to hold a full denture in place. Patients are amazed at what we can do in a single day, and often, their only regret is that they didn't do it sooner!
Learn More About All-on-4
---
Understanding the Cost of Dental Implants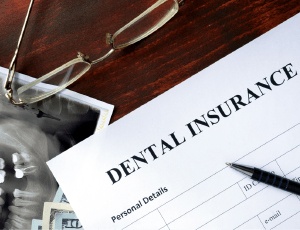 The cost of dental implant tooth replacement plans will vary dramatically from patient to patient. To replace just one tooth using a dental implant supported dental crown, price can range anywhere from $1,500 to $5,000 depending on materials, manufacturers, and a variety of other factors. The best way to prepare for the cost of your dental implant plan is to schedule a tooth replacement consultation appointment in our state-of-the-art Harrisburg dental office. During these consultation and treatment planning appointments, we'll review each stage of your treatment plan and partner with you to plan for the cost of care. If you have questions or want to schedule a dental implant tooth replacement consultation, call the Klein Family Dentistry team today.
Preparatory Treatments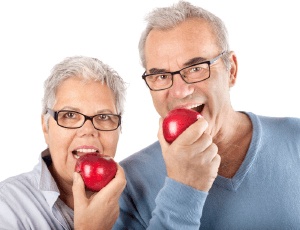 The first part of your treatment plan that should be considered is the need for preparatory services. This could include, repairing damaged dental structures around the lost tooth or teeth or providing periodontal therapy for gum disease sufferers. More advanced preparatory treatments, like tooth extractions and bone or gum tissue grafts, may also be needed to ensure successful implant placement.
The Cost of Dental Implant Posts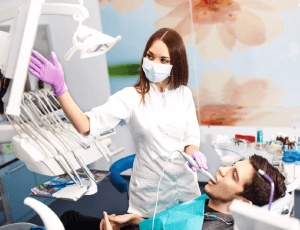 The main portion of the cost of your implant tooth replacement plan will be the price of your dental implants and their surgical placement. One dental implant post, prior to placement or restoration, can range in price between $500 and $3,000 or more. We'll walk you through your dental implant options and help you to find the ideal solution to ensure the success of your implant placement procedure.
The Replacement Tooth or Teeth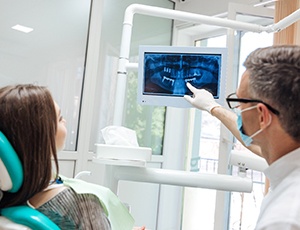 Finally, the cost of your dental crown, bridge, or denture will impact the overall price of treatment. Luckily, these restorations typically receive between 50 and 70% coverage under traditional dental insurance plans.
Dental Insurance Coverage & Financing Options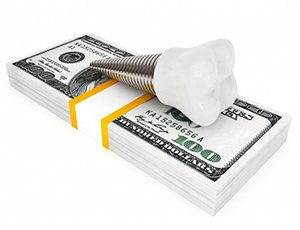 Our knowledgeable team members partner with you to create a personalized treatment plan, and we will also partner with you to budget for the out-of-pocket costs of treatment. If you have traditional dental insurance coverage, our team members will process and file your claims to ensure you receive maximum coverage. While most insurers do not offer benefits for the cost of dental implant posts or their placement, other aspects of treatment are covered, including many preparatory procedures, replacement teeth, and dental sedation in some cases.
If you don't have access to traditional insurance, our team offers an in-house savings plan. For members of our in-house dental savings plan, implant services are offered at a 10% discount. To split the cost of care into more manageable payments, we often work with third-party financiers like CareCredit to provide patients with low- or no-interest financing options.
---
Dental Implant Technology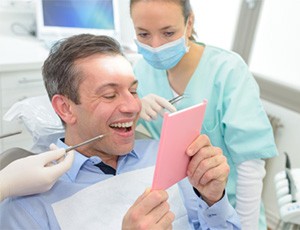 In order to ensure a completely integrated, effective dental implant-supported tooth replacement plan, we utilize all the latest dental technologies, including 3D CT cone beam scans to create a flawless view of the entire jaw, surgical sites, and more. We can use these comprehensive images to clearly see the shape, size, and position of every part of your tooth, leading to a clear and accurate surgical guide to ensure successful dental implant placement, so your restoration will last.
Digital Dentistry Integration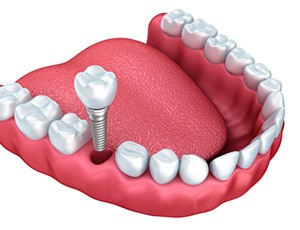 The key to streamlining dental implant placement and restoration is utilizing digital technologies. In addition to capturing digital photos and X-rays, we also use integrative software that allows us to incorporate all of these separate images into one complete restorative dentistry plan. When we take traditional and 3D X-rays, we can utilize our advanced digital tools to combine these images and create a comprehensive treatment plan that completely integrates every step of the most complex treatment plans.
3D CT Cone Beam Scanner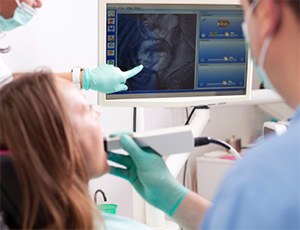 One of our digital technologies is the state-of-the-art 3D CT cone beam scanner. Like X-rays, these digital images allow us to see the interior structures of your teeth, gums, jawbones, and other surrounding structures. The difference between a CT scan and a traditional X-ray is that we can see the height and depth of oral and facial structures in order to plan for complex procedures, like dental implant placement, more precisely.
3D-Printed Surgical Guides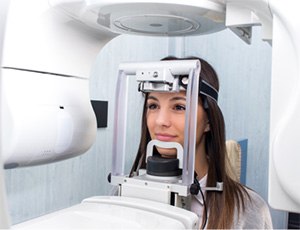 One of the most important technologies we use is our 3D printer. Our team can utilize the 3D printer when creating custom oral appliances like nightguards to prevent damage from unconscious teeth grinding and clenching. We also use the 3D printer to create dental implant surgical guides. These plastic pieces are positioned within the mouth during implant placement to ensure we position your dental implant post in the ideal place, improving the chances for successful implantation and ensuring complete fusion with the supportive jawbone and gum tissue. We maximize existing bone density and make sure we don't interfere with healthy nerve structures. 3D-printed surgical guides allow our team to simplify even the most complex dental implant placement procedure.
---
Dental Implants Post-Op Instructions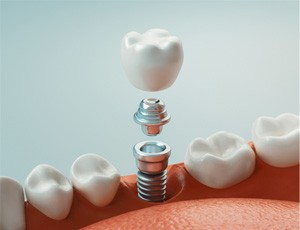 Rebuilding your missing teeth from the roots up with dental implants requires much more time and effort than other traditional restorations. With advanced technology and training, Dr. Klein can provide both the placement procedure and restoration in-office. Other than the treatment itself, you'll need to take plenty of time to allow your implant to fuse with your jawbone properly. Though it can take several days for you to feel back to normal, certain steps can ensure a smooth and speedy recovery. Here are a few dental implant post-op instructions you should follow from your dentist in Harrisburg.
What to Do Directly After Dental Implant Surgery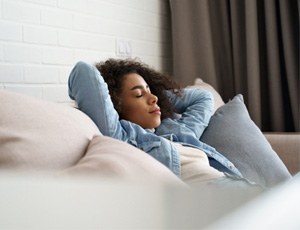 Since you'll likely be sedated for your appointment, you'll have to plan for someone you trust to drive you to and from the dental office. Furthermore, our team may recommend that you take your first dose of prescribed pain relievers before the local anesthetic wears off completely. Since your mouth may feel numb for some time after your procedure, be sure to avoid chewing on anything and only drink lukewarm beverages. Plan to get lots of rest so that your mouth can heal properly.
Common Side Effects When Recovering from Dental Implant Placement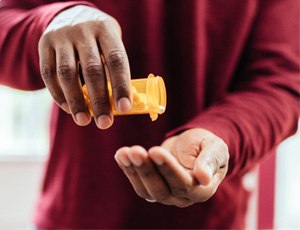 It's natural to feel tired after your dental implant placement. You may also feel mild discomfort, swelling, and intermittent bleeding. While bothersome, these side effects can easily be managed with gauze pads, a cold compress, and over-the-counter or prescribed pain medications. However, if your symptoms continue after a week or more, or your condition is worsening, make sure to notify us immediately for help.
Your Diet After Dental Implant Surgery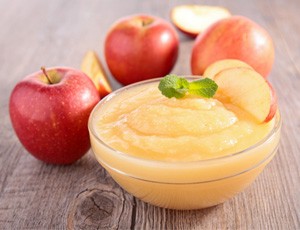 Since you'll want to allow your jawbone to heal as smoothly as possible around your dental implants, you should try to avoid any unnecessary disruptions. That's why you'll need to follow your post-op dietary guidelines and only consume soft, nutritious meals and beverages. These can include:
Applesauce, yogurt, and smoothies
Mashed potatoes, pudding, and baked veggies
Lukewarm pureed soup
Scrambled eggs and pasta
Post-Op Health & Oral Hygiene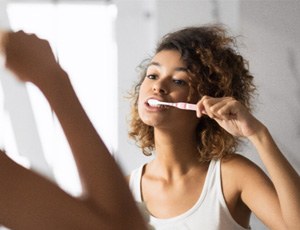 During your recovery, you'll want to ensure your mouth and implants are free of harmful bacteria. If germs start to accumulate around the implant site, they can cause infection in the tissues and damage them significantly. Not only can this delay your healing process and interrupt osseointegration, but it can also result in dental implant failure.
To avoid these complications, simply practice gently brushing your teeth twice a day like with your natural teeth. Make sure to floss daily or after every meal, especially below the gum line, and rinse frequently with mouthwash or water. Try letting it pour out of your mouth instead of spitting it out, as this can irritate the recovering tissues.
What to Do After Your New Teeth Are Attached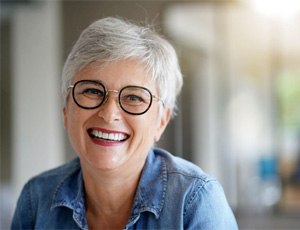 After a week or two from your dental implant procedure, you should feel completely recovered. However, your jawbone will still need to bond and heal over the implant(s) for several months. Once osseointegration is over, you'll come back to our office to receive your new replacement tooth or teeth for a full smile. This attachment process should be quick and painless, whether you're getting a dental crown, bridge, or denture. You might experience mild gum sensitivity for a few days as your mouth gets accustomed to your new pearly whites. In time, you'll be free to show off your full smile again!
---
Dental Implant FAQs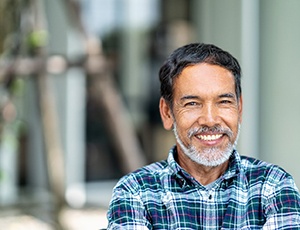 Dental implants are a huge commitment, so it is important that you are well informed before you make your decision. Here are the answers to some of the most common questions we receive on dental implants. If you don't see your question listed below, don't worry! Just give us a call. We'd be happy to answer any questions that you have or schedule you a consultation.
How Long Do Dental Implants Last?
Unlike traditional dental bridges or dentures, dental implants can last for upwards of 30 years, but this all depends on your health and lifestyle choices. An excellent oral hygiene routine is crucial when it comes to maintaining the health of your dental implants and your surrounding teeth. It is also a good idea to avoid foods that are particularly hard or sticky. When you have dental implants, it is especially important to keep up with regular dental checkups. This way, problems can be caught earlier, and you will be less likely to experience a dental implant failure.
Am I Too Young to Get Dental Implants?
Most dental professionals will not place dental implants in patients who are younger than 18. This is because most people's jawbones aren't fully developed until young adulthood. Some people's jawbones aren't fully developed until their mid-20s. If dental implants are placed before the jaw is done growing, it can interfere with further bone development and result in complications.
Can I Get Dental Implants If I Smoke?
Dental implants aren't completely out of the question if you are a smoker, but there will be many more risks, and you will be more likely to experience dental implant failure. Smoking or using other tobacco products can cause dry mouth and ultimately slow down the healing process. Ultimately, it can interfere with the implants' ability to fuse with the jawbone. Smoking also increases your risk of developing dry socket, or the dislodging the blood clot that forms over the implant site. If you smoke, you should give it up at least two weeks before your procedure and several months after. Of course, this is also a great opportunity for you to give up the habit for good!
How Long Does It Take to Recover from Dental Implant Surgery?
You should be able to resume your normal activities the day after your implant placement surgery. However, you should avoid strenuous exercise for the first week to give your implants the best chance of healing properly. After a couple of days, the bleeding will subside, and swelling should discontinue after three to four days. Take any over-the-counter or prescribed medication as directed. It may take up to six months for your implants to fuse with your jawbone.
---
Maintaining & Caring for Your Dental Implants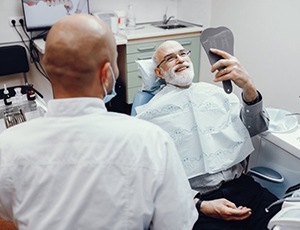 Because dental implants are so structurally different from dentures and dental bridges, they naturally require a different care routine. The good news, though, is that dental implant care in Harrisburg is strikingly similar to maintaining real teeth. After all, they're designed to recreate every part of your lost pearly whites. Plus, they can last for 30+ years with the right maintenance! To help your dental implants last as long as possible, make sure to follow these five simple steps.
Make Oral Hygiene a Priority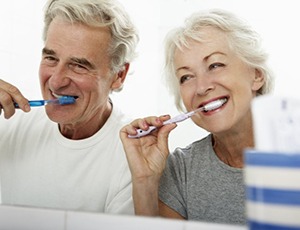 Unlike real teeth, dental implants in Harrisburg cannot decay. However, your remaining natural teeth still can. Also, gum disease is a major threat to the long-term success of your implants. To keep these risks to a minimum, establish an oral hygiene routine that includes brushing twice a day, flossing every night before bed, and rinsing with an antibacterial mouthwash on a regular basis. By prioritizing these habits, you can expect your newly rebuilt smile to last a lifetime!
Eat a Healthy Diet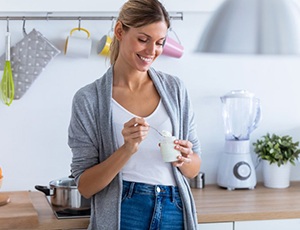 Having a bowl of ice cream or a couple of cookies every now and then is fine, but moderation is key. Overindulging in sugary or starchy foods will give harmful bacteria in your mouth the chance to wreak havoc on your smile. They could contribute to cavities in your natural teeth as well as gum disease, which is the leading cause of dental implant failure. You'll want to keep your gums and jawbone strong and healthy, as they support your implants. To that end, incorporate plenty of calcium, vitamin C, and protein into your diet by eating dairy products, lean meats, and fresh fruits and vegetables.
Break Bad Habits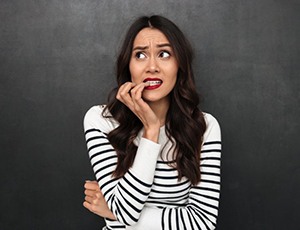 Everyone has bad habits, but some are worse for your oral health than others. In fact, some can prove disastrous for your dental implants or remaining teeth. Nail-biting, smoking, eating ice, and chewing on pens or pencils are all examples of bad habits that could seriously damage your implants and/or restorations. If you need help kicking any of these habits, don't be afraid to reach out to us. As an implant dentist in Harrisburg, Dr. Klein will gladly point you toward resources that can help you.
Protect Your Dental Implants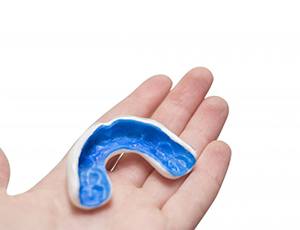 Playing sports is a great way to boost your overall health, but it sometimes comes with the risk of damage to your teeth – both natural and implants. The same can be said for chronic teeth grinding, which can wear down your teeth over time. Wearing a mouthguard can go a long way toward shielding your smile from sudden injury or long-term wear and tear. At Klein Family Dentistry, we can make you a custom mouthguard to wear during sports events or while you sleep for maximum protection.
Schedule Regular Dental Checkups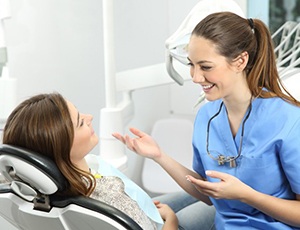 Routine preventive dental care doesn't stop being important after you've lost some or all of your teeth. In fact, regular dental checkups are crucial in ensuring your implants stand the test of time. When you visit our office every six months, Dr. Klein will have the opportunity to examine your implants, restorations, natural teeth, and gums for signs of trouble. If he spots anything worrisome, he can administer the appropriate treatment right away. Not only does this increase the success rate of your dental implants, but it reduces your likelihood of requiring more invasive (and expensive) procedures later on.