All-on-4 Dentures Harrisburg, Pennsylvania
Completely Restore Your Smile & Oral Health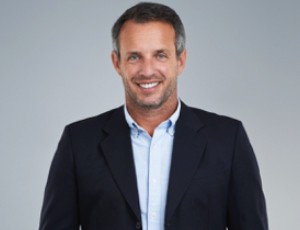 Every patient who comes to Klein Family Dentistry has a uniquely beautiful smile, and they deserve treatment plans that are customized to their individual needs and treatment goals. For those who have experienced advanced tooth loss, we are happy to provide a number of treatment options, including traditional removable and implant retained dentures and the innovative All-on-4 denture. If you're ready to find out more about your tooth replacement options, call our Harrisburg dental office today. One of our team members will be happy to answer your questions and schedule a tooth replacement consultation for you to visit our team.
---
What is All-on-4?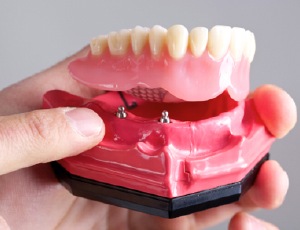 All-on-4 dentures are an innovative way to replace a full row of teeth using precisely positioned implant posts to make the most of your existing supportive structures to retain your full denture without the need for invasive tissue grafts in most cases. This means that more people than ever before are able to enjoy a flawlessly functioning implant supported denture.
How Does All-on-4 Work?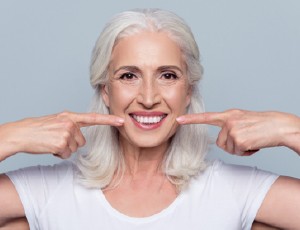 All-on-4 dentures are different from traditional implant dentures because of the unique positioning of the dental implants. In most cases, implants are positioned vertically into the jawbone along the gum line to provide support for the whole denture. The All-on-4 method utilizes the naturally denser portion of the jawbone in the front of the mouth to provide support for the whole denture. Two of the implants are positioned vertically to support the front of the denture. Then, two are placed diagonally supporting the back of the denture but implanting into the front of the mouth.
---
Who Should Consider All-on-4?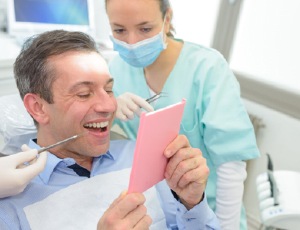 At Klein Family Dentistry, we don't believe in one-size-fits-all dental treatment options, but All-on-4 dentures are a great solution for many people who have lost all of their teeth. Some of the characteristics that would make a person an ideal candidate for All-on-4 dentures include:
Those who are in relatively good health – no serious immune-suppressing illnesses that may hamper the ability to safely receive All-on-4 surgery.
Those who have worked with a physician and our team to adjust any medications before beginning the implant tooth replacement plan.
Those who have no past negative experiences with surgical procedures or anesthesia.
Those who are in good oral health.
Those who have the time and financial stability to complete the process.
---
What are the Benefits of All-on-4 Dentures?
There are many benefits of All-on-4 dentures, including:
A faster treatment and shorter healing time due to the less invasive dental implant placement process.
Most patients can receive All-on-4 dentures without the need for invasive tissue grafts prior to treatment.
Traditional dentures only replace about 20% of chewing function, but an implant denture can renew 70% or more, allowing you to consume numerous foods.
All-on-4 dentures have success rates in the high 90's after twenty years. Traditional dentures need to be replaced every five to ten years.
---
All-on-4 FAQs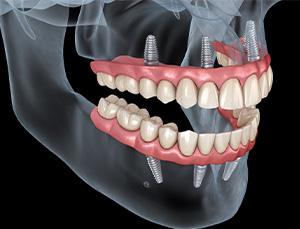 All-on-4 is a different kind of dental implant procedure, so it's normal to have questions about what to expect. At your initial consultation, we encourage you to voice any concerns you have about All-on-4 so that we can address them before you have to make any decisions. You can also call our office at any time if there's something you want to ask about. The following FAQs cover a number of the most common questions that our patients often bring up before beginning the All-on-4 process.
How Do All-on-4 Implants Differ from Traditional Implants?
With a traditional dental implant procedure, about 5 to 8 implant posts may be needed to support full dentures. However, with All-on-4, only four posts are required thanks to the way they're positioned in the jaw. Additionally, the All-on-4 technique often makes it possible to receive new teeth on the same day as implant placement surgery; with traditional implants, you often need to wait for your mouth to heal before your smile can be completed. During your initial consultation, we can help you figure out whether All-on-4 or traditional implants are right for your grin.
What Will I Be Able to Eat with All-on-4 Implants?
When your mouth is still healing from the All-on-4 procedure, it's best to stick to a diet of soft and liquid foods to ensure that you aren't putting too much pressure on your mouth. Protein shakes, soft tofu, eggs, cheese, hummus, mashed potatoes, soft bread, and oatmeal are all often good choices. Once your mouth has fully recovered, you can eat virtually anything you want. However, overly hard foods still have the potential to damage your dental implants, so you should continue to be careful around them even after healing is complete.
What is Recovery After All-on-4 Like?
Some minor swelling and soreness might occur after dental implants are placed in your mouth. You should be able to control the discomfort with over-the-counter medication like ibuprofen. Generally speaking, you should plan on resting for a few days after implant surgery; it's important to avoid strenuous physical activity until your mouth has fully recovered.
If your pain seems to get worse over time or lasts longer than it should, that isn't normal. Call us immediately to let us know what's going on so that we can advise you on the next steps you need to take to protect your oral health.
Will Insurance Help Pay for All-on-4 Implants?
In general, when it comes to dental implants, you normally shouldn't expect your insurance company to help pay for the actual implant posts. However, they might offer partial coverage for the final restoration as well as any preparatory procedures that might be needed before dental implant placement. If you reach out to your dental insurance carrier, you can confirm the details of your benefits before you commit to the All-on-4 procedure; that way, you'll have a clear idea of how much you can expect to pay out of your own pocket.