Teeth Whitening – Harrisburg, PA
A Brighter Future for Your Pearly Whites
Do you dislike the way your smile looks in the mirror? Do you wish you could improve the color of your teeth? Instead of struggling with stains or discoloration in your grin, you should consider undergoing professional teeth whitening in Harrisburg! Our team can provide either an at-home or in-office treatment to effectively enhance your pearly whites while working with your schedule. Read on to learn more about this incredible and reliable cosmetic dental service or give us a call to schedule your initial consultation.
Why Choose Klein Family Dentistry for Teeth Whitening?
Top-Tier Bleaching Solution for a Brighter Smile
Highly-Experienced & Dedicated Dentist
Offers Financing & In-House Membership Plans
Who Is a Good Candidate for Teeth Whitening?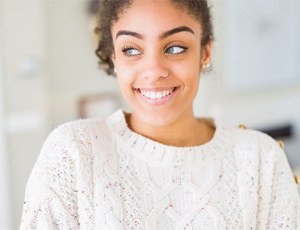 Generally speaking, nearly anybody who's dealing with a discolored or stained smile can be a good candidate for teeth whitening. The best way to know for certain if this treatment is right for you is by visiting us for your consultation appointment. During this time, we'll go over your medical and dental history, evaluate your oral health, and discuss your smile goals. Based on what we see, we'll be able to develop a personalized treatment plan to help you achieve your dream look efficiently and safely.
How Does Teeth Whitening Work?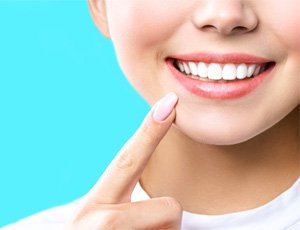 In your initial consultation, our team will walk you through the two methods for teeth whitening. Though they are both effective and provide dazzling results, they do have some differences you'll want to consider. Here's what you can expect from your options:
Take-Home Teeth Whitening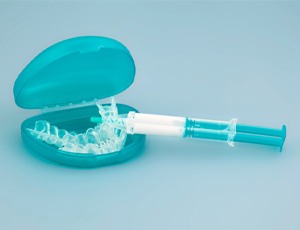 If you'd rather brighten your smile at your leisure or in the comfort of your home, then an at-home teeth whitening kit may be the ideal solution for you. We'll provide you with professional-grade bleaching agents and custom-made trays that you'll use over a couple of weeks. You'll fill the trays with the special gel and wear them for a certain period every day, allowing you to improve your smile by several shades.
In-Office Teeth Whitening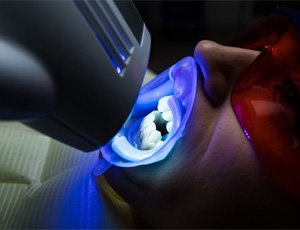 For patients who are on the go or require fast results, an in-office teeth whitening procedure would be best. Our team will utilize the same professional bleaching agents to enhance the color of your pearly whites, which will only take about an hour to blast away the majority of stubborn stains. Afterward, you'll be free to show off your newly brightened teeth for many months to come!
Tips for Maintaining Your Brighter Smile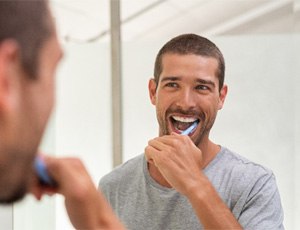 Now that you've enhanced your teeth the way you've always wanted, you'll want to take certain steps to preserve your results. To make the most of your treatment, make sure to practice the following tips:
Implement good oral hygiene, such as brushing, flossing, and rinsing with mouthwash every day.
See your dentist every six months for checkups and cleanings.
Minimize your exposure to dark-colored meals and drinks (like coffee, tea, and soy sauce).
Avoid poor oral habits like using your teeth as tools or smoking.
Ask our team about at-home touchups to preserve your whitened smile.