Come Benefit from Our Advanced Dental Technology
When you look down at your phone, it's amazing how much it has changed in just the past 10 years. Thankfully, that kind of progress has also occurred within dentistry, and thanks to the newest tools, we're able to treat our patients faster, safer, and with less discomfort. If you haven't been to the dentist in a while, you'll be amazed at how we can use technology to make your appointments simply fly by. Below, you can learn about some of the fantastic tools we use every day.
---
Intraoral Camera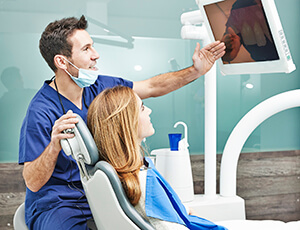 Our Mouthwatch intraoral camera allows us to do a few fantastic things. Firstly, this small, camera-tipped wand is able to capture high-resolution images of your teeth and gums and display them on a chairside monitor. This not only makes it easier for Dr. Klein and our team to spot any signs of dental problems, but it also gives you a chance to see your mouth from your dentist's point of view. This will provide you with vital information about your oral health and help you make more confident treatment decisions.
---
Digital X-Rays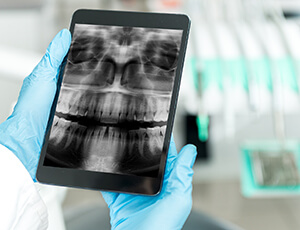 X-rays have been an essential part of our practice for a long time, but traditional film-based x-rays have always had definitive drawbacks. They were slow, required toxic chemicals to process the images, and they exposed our patients (and us!) to radiation.
This is why we now only use Scan-X digital x-rays at our practice. They create images much faster, they don't require anything to be developed, and they also emit 90% less radiation. With them, we can keep you safer whenever you come to see us.
---
CT / Cone Beam Scanner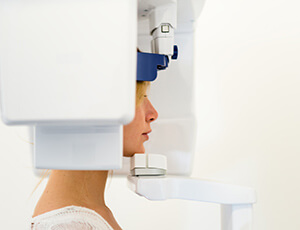 This is a fantastic piece of equipment we can use to quickly create a fully 3D image of your mouth and jaw. With this kind of image, we can precisely plan a wide variety of procedures so that we can perform them in the least invasive and most effective way possible. You'll just sit in the machine while the scanner rotates around your head, and in seconds, it will take hundreds of unique images and piece them together into a single 3D model.
---
Soft Tissue Laser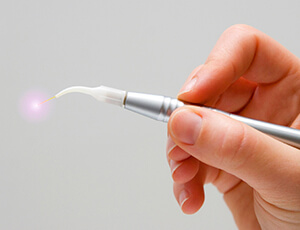 Our Sol Diode soft tissue laser allows us to perform sensitive periodontal (gum) therapy with ease and efficiency. The highly concentrated beam of light is able to quickly vaporize any plaque or bacteria that has accumulated along your gum line, and it is so precise that it will not affect any of the surrounding tissue. It also cauterizes the tissue as it goes, meaning that pain, bleeding, and even recovery time will be significantly reduced or even non-existent.
---
Cavity Detection System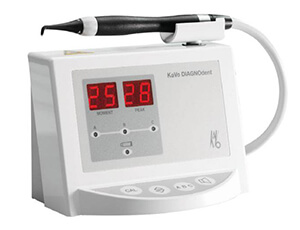 The earlier we're able to spot tooth decay, the easier it is to treat. It's just that simple! Ideally, we'd always catch wear on your enamel BEFORE it becomes a cavity, and that's easier than ever thanks to DIAGNOdent. This concentrated beam of light is able to detect even the slightest thinning on your enamel, which means we'll be able to treat you quickly and conservatively before you have any dental issues.
---
3D Printer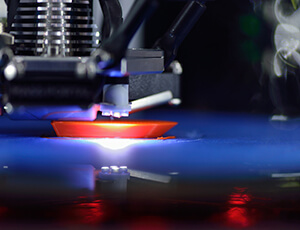 This is something you simply won't find at any other dental practice. 3D printing technology is growing by leaps and bounds, and in a few years, we won't even need to use a dental lab anymore. Right now, we're able to create fully customized nightguards to help patients with nighttime teeth grinding, and we can also create 3D surgical guides for dental implant placement. That means when you come in to have your missing teeth replaced, we'll have practically already performed the procedure, so your experience will be quick and easy.