Implant Dentures – Harrisburg, PA
Restore Your Smile to the Fullest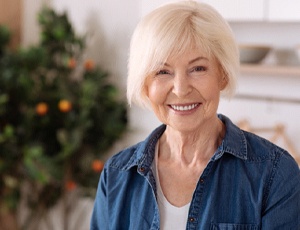 Tens of millions of Americans are missing all of their teeth, so if you're struggling with major tooth loss you're definitely not alone. However, there are multiple options available to you when it comes to replacement. While dentures are generally affordable and can last for several years, they aren't necessarily for everyone. Whether you're learning about your options for the first time or you're tired of living with a traditional denture, it's worth giving implant dentures in Harrisburg a closer look. Call Dr. Klein to schedule your next appointment at Klein Family Dentistry!
What are Implant Dentures?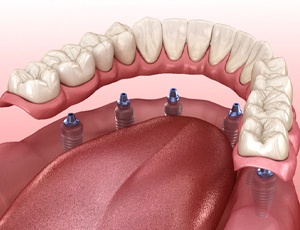 Implant dentures use dental implants to hold a dedicated prosthetic inside the mouth. Dental implants are titanium posts that are surgically placed in order to fuse inside of the jawbone. This ensures they have the strength and stability to hold a dedicated restoration. Not only can they hold crowns and bridges, but they can keep dentures in place more effectively than traditional solutions (which rely on natural suction to the gums). Furthermore, basic tasks like speaking, eating, and smiling feel far more natural when your denture is paired with dental implants.
Depending on your needs, you can choose between two implant denture options: fixed and removable.
Fixed/Permanent Implant Dentures
These are designed to remain attached to dental implants and should only be removed by a dentist. While this can make it easier for patients to forget they even have dentures, they do require a large amount of jawbone density because roughly four to six dental implants are needed.
Removable Implant Dentures
Also known as "snap-on" dentures, this removable option allows you to take your denture out for more detailed cleaning. They also don't need as many dental implants on average, requiring anywhere from two to five. If you don't mind removing your denture for daily cleaning, this solution may be for you.
The Implant Denture Procedure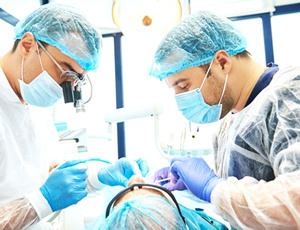 Our office can place dental implants entirely in-house, so you won't have to travel to another practice just to complete the surgical portion of your treatment. Ahead of your surgery, we'll create 3D printed surgical guides to ensure the most precise implant placement possible. On the day of your treatment, we'll administer local anesthetic, create small incisions in your gum tissue, then place the dental implants into your jaw. After the gum tissue is stitched closed, the implants will be given time to fuse with the jaw before a permanent denture is attached.
Am I a Candidate for Implant Dentures?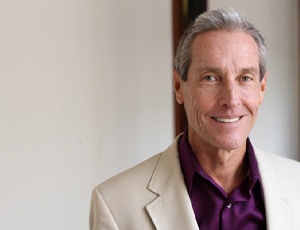 If you are missing several teeth on opposite sides of your mouth or an entire arch of teeth, it's likely you are a candidate for implant dentures. However, you will also need to have:
Reasonably good oral health (no existing dental disease)
Sufficient overall health (i.e. the ability to complete minor surgery)
Enough healthy bone tissue for the implants to fuse with
Benefits of Combining Dentures & Dental Implants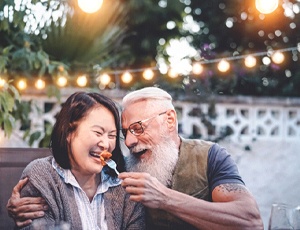 By combining dentures with dental implants, you can expect many benefits, including the following:
A longer lasting tooth replacement (can last for 30+ years with routine maintenance)
A denture that does not slip and shift out of place while in use
Healthier bone tissue (as the dental implants provide consistent stimulation)
A natural-looking smile you'll feel confident showing off
The ability to eat all your favorite foods without worry, including hard, chewy, and crunchy options