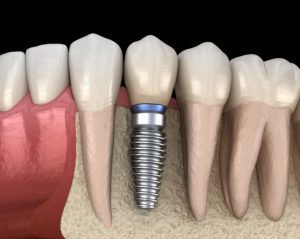 Your teeth are designed to last for a lifetime, but that isn't the case for many adults. It's common to lose a tooth or two over the years despite the latest advancements in dentistry. Whether you've lost a single tooth, multiple teeth, or an entire arch, you can benefit from a revolutionary treatment. A dental implant is the only solution to replicate the entire tooth, including the root. Although you've heard about their benefits, did you know there are different types of dental implants? Here's what you need to know to choose the best one to complete your smile.
Replacing a Single Tooth
Traditionally, a missing tooth is treated using a bridge and crowns. A prosthetic tooth is created to fill the space while dental crowns are bonded to the adjacent teeth to hold it in place. Although it is effective, you'll need to have it replaced every few years.
A dental implant resolves the disadvantages of a bridge and crowns. A titanium post is surgically placed into your jawbone to serve as a root. A special fixture, called an abutment, is attached to the post to connect your custom-made restoration. With the right aftercare, like maintaining your oral hygiene, your new smile can last for a lifetime, so you'll never need to worry about paying for a new one.
Treating Consecutive Tooth Loss
If you've lost more than one tooth in a row, a bridge and crowns can also be used to rebuild your smile, but you'll still need to alter healthy teeth. You can preserve your natural smile by supporting your bridge with 1-2 dental implants. With the posts acting as roots, they'll stimulate your jawbone to preserve its dentistry. As a result, you'll stop dental drift to improve your oral health and reduce your long-term costs for care.
Restoring Complete Tooth Loss
A full denture can treat complete tooth loss in an arch. An acrylic base is created to match the color of your gum tissue. It features replicas of your teeth and rests on top of the gums. It is held in place by suction or an adhesive. Although dentures have undergone several improvements, they will never truly feel natural.
You can stabilize your denture and enjoy unmatched support with dental implants in Harrisburg. 4 to 10 dental implants are inserted into the jaw to secure your denture. You'll never have to worry about any slipping or irritation. You'll regain as much as 70% of your biting force to enjoy your favorite foods again.
Complete Your Smile Today
If you have good oral and general health, you might be a candidate for a bridge or implant denture in Harrisburg. Your dentist will create the personalized plan you need to have a complete, beautiful smile again.
About Dr. Gary M. Klein
Dr. Klein earned his dental degree at the NYU College of Dentistry and has regularly furthered his training in many specialties, like dental implants. Named one of the top 40 dentists in the U.S. by Incisal Edge Magazine, you can feel confident your smile is in good hands. Contact our office today to schedule your consultation.