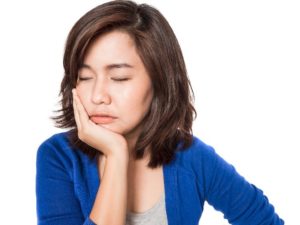 If you've lost a tooth or two, you've probably heard about the benefits of dental implants in Harrisburg. Although you'd like to enjoy their benefits for yourself, you have a bad habit of grinding and clenching your teeth. It's true, bruxism and dental implants don't mix well, but that doesn't exclude you from treating your tooth loss. Your dentist can help safeguard your new smile to prevent dental implant failure.

Does Bruxism Lead to Dental Implant Failure?
Bruxism is a subconscious habit that causes a person to grind or clench their teeth, often while sleeping. When left untreated, it will lead to enamel erosion, breaks, fractures, and even tooth loss. Whether you've lost a tooth from grinding, decay, trauma, or infection, a dental implant is the only treatment to replicate the entire structure.
A titanium implant post is surgically placed onto your jawbone to act as a root. Your bone fuses to the post to provide a stable foundation for your restoration, which is attached to it using an abutment. A dental implant is the most reliable treatment for tooth loss, with over a 95% success rate to last for decades.
Unfortunately, patients who have bruxism have a heightened risk of dental implant failure. The pressure from grinding and clenching can eventually loosen the implant post or cause your dental implant to break. In fact, the failure rate is over 40% without the right treatment. Thankfully, your dentist in Harrisburg can help promote the long-term success of your new smile to protect your investment.
Am I Still a Candidate for Dental Implants?
It's true, you'll have an increased risk of dental implant failure, but you can still be a candidate for the treatment by following a few precautions. It's best to see your dentist for a custom-fit nightguard to preserve your smile. It adds a cushion between your upper and lower teeth to absorb the pressure.
In addition to using a nightguard, it's best to follow a few extra tips to reduce any damage caused by bruxism, such as:
Practice stress-relieving exercises during the day to prevent clenching your teeth at night.
Avoid caffeinated or alcoholic beverages for at least 4 hours before going to bed.
Practice good sleep habits with a comfortable environment and regular bedtime.
Visit your dentist regularly for a cleaning and checkup.
Invest in a Complete Smile
If you grind your teeth at night, you can still enjoy the benefits of dental implants, but you'll need to protect them from failure. Mention your bruxism during your initial consultation for dental implants to create the personalized plan you need to ensure they last for decades.
About Dr. Gary M. Klein
Dr. Klein earned his dental degree from the NYU College of Dentistry. He has completed advanced training in many specialties, including dental implants. He combines his continuing education with the latest technologies to treat complex oral health issues, like tooth loss. If you're ready to replace your missing teeth, contact our office today to schedule your consultation.