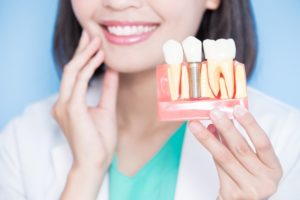 Is it about time that you invest in some dental implants and say farewell to your dentures in Harrisburg? Many people try traditional dentures before deciding that it isn't the tooth replacement option for them. Today, you have many different choices when it comes to replacing your teeth. Dental implants have come to be preferred by patients and dentists alike because of their many benefits. Continue reading to learn more about the benefits of dental implants and everything you need to know about your transition from dentures.
What Are the Benefits of Dental Implants Over Dentures?
There are a variety of reasons that patients are switching from dentures to dental implants in Harrisburg. Here are some of the many advantages of this modern tooth replacement option:
Easy to Care For: You won't need to be dealing with any adhesives or having to soak your dentures at night. You care for implants with regular brushing and flossing, just like you would with natural teeth.
Prevents Bone Loss: Dental implants are the only tooth replacement option that preserves the integrity of the jawbone. This is because they replace the natural root of the tooth, helping it to get the stimulation it needs to remain strong.
No Food Restrictions: Just like always, you will want to be careful when eating harder foods. However, you will not need to deal with any of the eating restrictions that you had with dentures. Implants restore up to 90% of your natural chewing power.
Stability: When dentures aren't fitting correctly, they can slip and slide in your mouth which can be a pain. Since implants are anchored in the jawbone, this will no longer be an issue.
Long-Lasting: Dentures need to be replaced after approximately 7 to 10 years. On the other hand, dental implants can last 25 years or more with proper maintenance.
How Do You Care for Dental Implants?
Implant care is quite a bit different from denture care. Here are some things you should know beforehand when you are transitioning so the process goes smoothly:
Brush Twice a Day: You can find special toothbrushes made just for people who have dental implants. It makes it easier to clean hard to reach places in the mouth.
Floss Daily: Take time to floss every day to avoid gum damage and tooth loss.
Don't Smoke or Drink Heavily: Both of these activities are extremely damaging to your smile. They interfere with the healing process and can weaken your bone structure.
Eat Carefully: You won't have any food restrictions once the implants heal, but you should still be weary of foods that are hard and sticky.
See Your Dentist: When you go to the dentist for regular checkups, they will be able to check to ensure that your implants look in good shape.
Things will be different once you get your implants, but you will be able to experience all the benefits of your new permanent smile.
About the Author
Dr. Gary M. Klein earned his Doctor of Dental Surgery from the NYU College of Dentistry before finishing a one-year residency in general dentistry at Lehigh Velley Hospital in Allentown. He was recently named as one of the top 40 dentists in the country by Incisal Edge Magazine. For more information on dental implants or to schedule an appointment, visit his website or call (717) 652-6644.