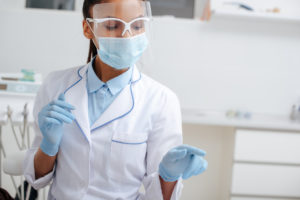 A year ago, going to get your teeth cleaned was a simple process. Once you took a seat in the chair, all your hygienist had to do was wash their hands and put on a mask and gloves before getting started. Unfortunately, COVID-19 changed that. The extremely communicable nature of the disease meant that dental professionals needed to re-evaluate their safety protocols. Keep reading to find out what new policies the team at your dentist in Harrisburg is using to protect you before you even come in for treatment.
Advanced Safety Training
Dentists have provided their teams with additional training about the latest safety procedures to make sure everyone in the office knows how to prevent the spread of germs.
Dental Safety Champions
Before the first patient arrives, a member of the team is designated as the safety champion for the day. Their job is to look out for violations of the new safety policies and teach patients how to follow them when they come in for care.
Daily Health Checks
At the start of each day, every team member will need to answer a set of questions and complete a touchless temperature check to confirm they don't have any symptoms of COVID-19.
No Contact Greetings
While it's natural to offer someone a hug or a handshake after not seeing them for a while, you won't see this happening at your local dentist's office. In addition to following proper social distancing guidelines, team members are limiting unnecessary contact to prevent accidental transmission of the virus.
Updated Personal Hygiene Standards
Dentists are asking staff to wear long hair up and keep their nails trimmed. They are also asking them not to wear long jewelry or watches. They're doing this to reduce the number of surfaces that viral particles can accumulate on during the day.
Additional Protective Equipment
Surgical masks and gloves have always been your dentist's go to pieces of protective equipment. However, the coronavirus requires a higher level of care. Team members at the front desk are using face masks at all times, and those who are involved in patient care are using N95 and ASTM Level 3 masks. Face shields and disposable protective coats are also being used to prevent the virus from landing directly on the clothes of care providers.
By using these and many other procedures, the team at your local dentist's office will be able to keep you and everyone else involved in your care safe from COVID-19.
About the Author
Dr. Gary Klein attended NYU College of Dentistry. He has always believed in providing a treatment environment that is free of germs. Both he and his entire team take continuing education courses to stay up-to-date with the latest developments in dental safety procedures. If you would like to know more about how he is updating his office to fight COVID-19, you can reach out to him through his website or at 717-652-6644.