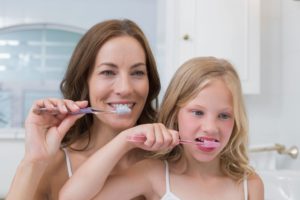 Because of the coronavirus, social distancing has become the new norm. Everyone besides essential workers is, or at least should be, staying inside unless it's absolutely necessary to go out. Trips to the store should be few and far between, so you'll want to make your at-home oral hygiene products last as long as possible while still keeping your teeth and gums healthy. Keep reading to learn from a dentist in Harrisburg just how much of each oral hygiene product you should use.
Toothpaste
It's all too easy for people, especially kids, to use too much toothpaste. Almost 40% of children aged three to six use too much, according to a 2019 study by the Centers for Disease Control and Prevention. Using large amounts of toothpaste makes it more likely that your child will swallow too much fluoride, which can result in discoloration of their permanent teeth when they get older.
Here is a good estimate of how much toothpaste kids should use at different ages:
When teeth first appear: As soon as the first tooth appears, brush your baby's teeth with just water.
Under two years: Ask your dentist how much your little one should use.
Two to three years: Use a tiny smear the size of a grain of rice.
Three to six years: Use a pea-sized amount. Just be careful that they spit out the toothpaste before rinsing to lessen the risk of swallowing.
Floss
No matter your age, you should use a piece of floss about 18 inches long, wrapping the string around the middle finger of each hand. You can then leave about one inch unwrapped to thread between each of your teeth. This way you will be able to move the floss around and use a different section of it for each space between the teeth.
Mouthwash
Rinsing with mouthwash before or after brushing and flossing is the perfect way to clean the areas of your mouth that your toothbrush and floss can't reach. The amount you should pour out to rinse with is about 20 milliliters, or about four teaspoons. Swish the mouthwash around in your mouth for about 30 seconds to reach all the surfaces of your teeth, gums, palate, and tongue. Keep in mind that children under the age of 12 should probably not use mouthwash, but after that, they should make it a part of their daily oral hygiene regimen.
It's important to take a conservative approach to your dental health care and use your hygiene products sparingly. That being said, you should still use enough to keep your mouth clean and healthy. Follow the advice in this blog post, and your teeth and gums should stay in excellent condition throughout this quarantine.
About the Author
Dr. Gary Klein is a dentist in Harrisburg, PA who earned his Doctor of Dental Surgery degree from the prestigious New York University College of Dentistry. He and his team continuously take post-graduate courses to stay abreast of the latest techniques and technology that modern dentistry has to offer. To learn more about how to best take care of your oral health while you're stuck at home, visit Dr. Klein's website.