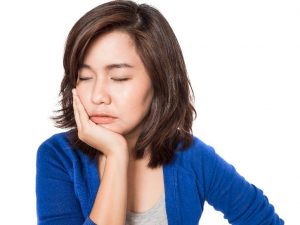 The holidays are an exciting time of the year as you gather with friends and loved ones. While you shop for the perfect gifts and prepare tasty meals, the last thing you expect is a toothache to interrupt your plans. Although you never thought it would happen to you, it is more common than you might think. In fact, it is estimated 55% of adults report to have had at least one toothache during the past 6 months. Often, it results from an untreated cavity. No matter the underlying problem, you need an emergency dentist in Harrisburg. Unfortunately, your dental office may be closed because of the holidays. Do not worry. There are several things you can do at home to help manage your discomfort until your appointment.

Treating Toothaches at Home
It is often thought an occasional toothache is of no real concern; however, this is not true. Any unexplained dental pain is a sign of an underlying problem, like a cavity or an infection. No matter if your pain is minor or gradually becomes more severe, it is best to schedule an appointment with your dentist in Harrisburg right away.
While you wait for your appointment, there are simple home remedies you can use to cope with any pain or swelling.
Rinse with warm salt water: Salt water acts as an antiseptic, which can help to relieve pain from an infected tooth. Mix half a spoon of table salt with a cup of hot water and rinse your mouth two to three times per day.
Cold compress: A cold compress can help reduce any swelling that may have resulted from trauma to the mouth that caused your toothache, like a chip or fracture. Apply ice to the outside of your face to help constrict your blood vessels to decrease the swelling.
Hydrogen peroxide rinse: Hydrogen peroxide can relieve pain and inflammation while also killing bacteria. Use a mix of 3% hydrogen peroxide with equal parts water as a mouthrinse. Be careful not to swallow it.
Over-the-counter pain reliever: Tylenol or ibuprofen can help keep your pain under control. Use is at recommended on the product's packaging.
Call Your Dentist
If your toothache subsides before your dental office opens after the holidays, do not cancel your appointment. It is best to have an examination to monitor your oral health. There may be a larger problem brewing beneath the surface that may turn into a bigger issue down the road if it is not treated quickly.
Although you cannot fully prevent toothaches, maintaining your oral hygiene and regular appointments with your dentist can help reduce the risk of one interrupting your holiday plans.
About Dr. Gary M. Klein
Dr. Gary M. Klein strives to create healthy, beautiful smiles using a focus on prevention. Even with the best preventive measures in place, a complication can still arise, like a toothache. Dr. Klein is here for his patients during dental emergencies. If you have an oral health problem that cannot wait, contact our office today for an appointment.