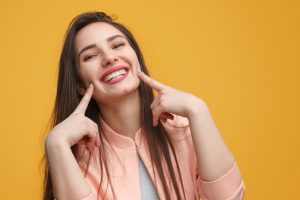 Do you have flaws in your smile? If you're like many Americans, you may look in the mirror and see a smile that you aren't 100% satisfied with. Your smile is directly related to your confidence, self-esteem, and a nice-looking grin also makes you look more youthful and successful. You may be wanting to improve your smile, but how do you know which cosmetic service is right for you? Take the quiz below to find out what kind of treatments you could benefit from with your cosmetic dentist.
Cosmetic Dentistry Quiz
Answer the following questions to find out which cosmetic dentistry service is best for your smile.
#1: How would you rate your smile (1-10)?
Between 7 and 9: It's pretty much okay, but there are a few minor flaws that I wish weren't there.
Between 4 and 6: My smile is average, but there are enough flaws to make me feel self-conscious.
Between 1 and 5: I don't like my smile. It's full of discoloration, cracks, chips, and other noticeable flaws.
#2: What is your cosmetic dentistry budget?
I want to be as cost-effective as possible.
I don't mind spending a little more money for my desired results.
I am ready to spend whatever it takes to make my smile beautiful.
#3: Do you want to permanently alter your smile, or are you looking for a temporary solution?
I want to keep my natural tooth structure.
I am willing to consider alteration.
Whatever it takes for a great looking and feeling smile.
#4: Do you have structural issues like cracked, decayed, or missing teeth?
I have super-small chips, but my teeth are healthy.
My teeth have chips and cracks but no decay.
Yes, I have tooth decay and other structural issues.
What Cosmetic Service is Right for You?
If you answered…
Mostly 1's
If you answered mostly 1's, you're lucky! You have a healthy smile with minor flaws that can be fixed easily with cosmetic bonding. Your dentist can use composite resin to rebuild and sculpt your imperfect teeth. You may also want to consider teeth whitening if you have stains or discoloration. Both treatments are affordable, and they can be done in one easy visit!
Mostly 2's
If you answered mostly 2's you may consider porcelain veneers. These thin shells of dental porcelain made to cover the front surfaces of your teeth can conceal almost any flaw. And, the best part is, they're stain proof. Your dentist must shave away a tiny bit of enamel to accommodate your veneers, but you'll have a brand-new, long-lasting set of pearly whites.
Mostly 3's
If you answered mostly 3's, you may need a smile makeover. This option blurs the lines between cosmetic and restorative dentistry. A smile makeover combines 2 or more cosmetic dentistry services with restorative treatments to deliver you a healthy and beautiful smile. The price will range depending on what treatments you need, and you can ask your dentist in Harrisburg for an estimate.
Hopefully, you have a better idea of what cosmetic services your grin may need. No matter if you have big or small imperfections, your smile is well-worth the investment.
Meet the Dentist
Dr. Gary M. Klein enjoys boosting his patients' confidence through improved smiles. He understands how important the look of your smile is during your everyday life, which is why he provides quality cosmetic dentistry in his office. For any questions, he can be contacted through his website or by phone at (717) 652-6644.