Dental Crowns & Bridges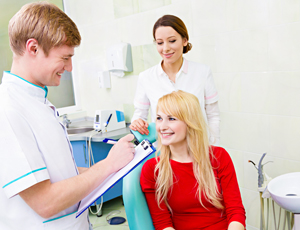 Dental crowns and fixed bridges are two of the most commonly used restorative dentistry services. They offer reliable, long lasting results for patients with damaged or missing teeth. If you're in need of dental restoration in Harrisburg or surrounding communities, contact the Klein Family Dentistry team to find out more or schedule an appointment with us today. We're here to help whenever patients need us most, and that includes providing restorative services following dental damage or decay.
How do Dental Crowns Work?
Dental crowns are restorations used to repair damaged teeth following serious decay or dental damage. They allow our team to repair a tooth instead of removing severely damaged teeth. A crown is formed to fit over the top of a damaged tooth recreating lost tooth structure and sealing out potentially damaging bacteria and plaque to protect and strengthen the tooth. The dental crown is placed over the course of two appointments. During the initial visit, we'll prepare the tooth by removing damaged structure and shaping the remaining tooth enamel to allow for the additional space taken up by the restoration. Then, we capture an impression that will be used by our lab to craft the custom dental crown. Finally, we place a temporary to protect the prepared teeth until you arrive in our office. When we receive the custom crown from the lab, you'll return for your second appointment. During this shorter appointment, we simply need to exchange the temporary for a custom dental crown.
How do Fixed Bridges Work?
A fixed bridge uses two dental crowns, one on each side, to support a replacement tooth or teeth. The replacement is fused to the dental crowns, which are then cemented to healthy teeth on either side. Like dental crowns, the fixed bridge is placed over the course of two appointments. During the initial visit, we prepare the teeth, capture impressions, and place a temporary. Then, you'll return to the office to exchange your temporary bridge for a custom fixed bridge.
Benefits of Dental Crowns & Fixed Bridges
There are numerous benefits to repairing smiles with dental crowns and fixed bridge restorations, including:
Natural looking materials are available to seamlessly repair the appearance, shape, and function of damaged or lost teeth
Prevent the need for tooth removal by repairing teeth and strengthening root canal treated teeth with dental crown restorations
Fixed bridges look, feel, and function like lost teeth, and they will remain in place to protect the smile
Caring for Dental Crowns & Bridges
For the first few days following your dental crown or fixed bridge restoration appointment, you'll need to pay extra attention to ensure the area is healing properly and you don't accidentally shift the newly placed restoration. When your smile is fully healed, you should be able to return to your twice daily brushing and flossing once a day. We may encourage you to switch to a softer toothbrush or less abrasive toothpaste. Some patients also switch to a waxed floss or a use water flossers to thoroughly clean around the restorations without unintentionally pulling on the crown or bridge. Otherwise, continue your regular hygiene routine each day and visit our office twice a year.