Dental Implant Technology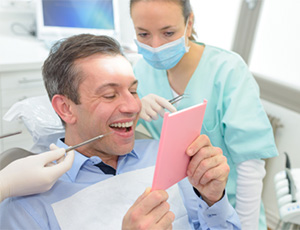 At Klein Family Dentistry, we always use the most innovative dental technologies and treatment methods in order to provide safe, comfortable, efficient dentistry services from a simple filling to the most advanced smile reconstruction plans. In order to ensure the success of dental implant supported tooth replacement, we have incorporated many state-of-the-art planning and treatment technologies. By seamlessly integrating digital dental technologies, we can perform every step of implant tooth replacement treatment with complete precision. If you want to learn more about replacing teeth with dental implants, our innovative dental technologies, and more, call to schedule a tooth replacement consultation in our Harrisburg dental office. We'll review all of our technologies and treatment options to help you feel 100% comfortable before beginning your tooth replacement plan.
---
Digital Dentistry Integration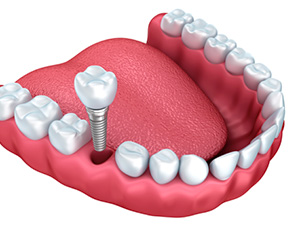 The key to streamlining dental implant placement and restoration is utilizing digital technologies. In addition to capturing digital photos and x-rays, we also use integrative software that allows us to incorporate all of these separate images into one complete restorative dentistry plan. When we take traditional and 3D x-rays, we can utilize our advanced digital tools to combine these images and create a comprehensive treatment plan that completely integrates every step of the most complex treatment plans.
---
CT Cone Beam Imaging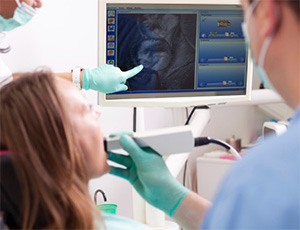 One of our digital technologies is the state-of-the-art 3D CT cone beam scanner. Like x-rays, these digital images allow us to see the interior structures of your teeth, gums, jawbones, and other surrounding structures. The difference between a CT scan and a traditional x-ray is that we can see the height and depth of oral and facial structures in order to more precisely plan for complex procedures like dental implant placements.
---
3D Printed Surgical Guides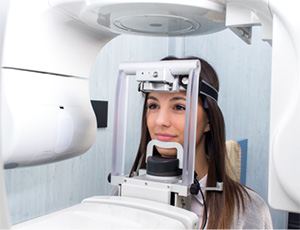 One of the most important technologies we use is our 3D printer. Our team can utilize the 3D printer when creating custom oral appliances like nightguards to prevent damage from unconscious teeth grinding and clenching. We also use the 3D printer to create dental implant surgical guides. These plastic pieces are positioned within the mouth during implant placement to ensure we position your dental implant post in the ideal place, improving the chances for successful implantation and ensuring complete fusion with the supportive jawbone and gum tissue. We maximize existing bone density and make sure we don't interfere with healthy nerve structures. 3D printed surgical guides allow our team to simplify the most complex implant placement procedure.